After the crypto markets collapsed on September 7 in response to the Coinbase vs. U.S. Securities and Exchange Commission (SEC) case, bears still prevail.
This is evidenced by the beginning of this week, when exactly at 03:00 (CET) Bitcoin faced further sales, which resulted in a loss of about $2K over the next few hours.
The fact that fear is currently prevalent among traders is also confirmed by the Crypto Fear & Greed Index, which shows a value of 44.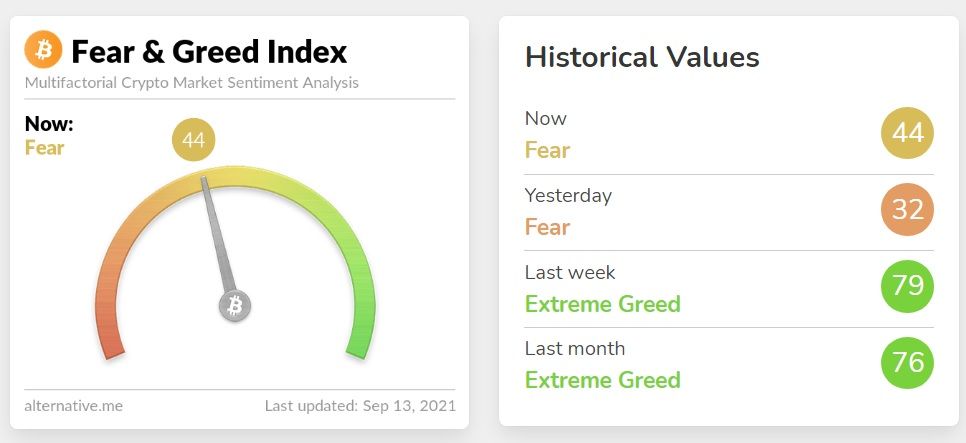 However, this situation is not unique at all, because the mood in the crypto markets fluctuates as well as prices, see last week's value of 79.
But what we want to point out in this analysis is, in particular, the already mentioned Coinbase case, which we think may ultimately have a positive impact on all crypto markets.
The reason is the fact that the US Securities and Exchange Commission will finally have to reveal and justify its behavior in this high-profile case, which means that we could finally get a definitive guideline for cryptocurrencies.
In the end, it will help all crypto, fintech companies, because they will no longer face unclear rules and definitions, as well as a problem with laws in the US.
What to expect in the coming days from the point of view of technical analysis?
It is highly likely that we will be in the price corridor between $40K - $50K for some time to come and test the resilience of these support and resistance zones.
However, due to the Relative Strength Index (RSI), we no longer expect larger sales. On almost all time frames, Bitcoin is sold out, or is approaching this limit, which means that the price can be reduced to important support to $42 - $43K, but no more.
In the $42K - $43K price range, we expect increased purchase volumes.
Important price areas:
The $58,200 to $62,000 range is a reversal zone
Resistance at $50K - $48K
Support at $42K - $43K
Key support in the area of ​​$28K - $30K
Next support at $22.5K

---
---