First of all, we want to congratulate those who are watching us because we were right again and Bitcoin fulfilled our scenario two days after our last analysis called "Bitcoin is going for the new ATH".
But let's first look at what is most likely behind the new ATH and what is behind the subsequent bloody dump.
As for the first scenario, and thus the achievement of the new ATH, all indications are that the main trigger was Coinbase's listing on the Nasdaq Global Select Market.
Bitcoin reached the new ATH of $ 64,854 (binance) on April 14, the same day Coinbase shares began trading on the Nasdaq market. By the way, Coinbase immediately became the most valuable stock exchange in the world with a current market cap of $ 90B.
However, what no one expected Bitcoin had to face a sharp drop in a few days when it lost almost $ 15K. But here we have to ask ourselves what was such a strong impulse that it was able to erase such a strong event as the listing of the first large crypto company on the Nasdaq market?
While it's unbelievable, it was unverified information from the highly watched twitter channel FXHedge, which announced that the US Treasury Department plans to sue several financial institutions for money laundering associated with crypto.
The post was published on April 18, at a time when this news has traveled the world and the market has dumped.
However, in order not to draw attention only to external factors, let us also look at the technical analysis and its outlook.
Although Bitcoin finally managed to leave the functioning reverse zone upwards, it did not take long. This zone is therefore still a problem, and if Bitcoin fails to move significantly away from it, we can expect the scenario to be repeated.
What else does technical analysis say?
Confirmed support at $ 50K
Next support in the area of ​​$ 42K - $ 43K
Key support in the area of ​​$ 28K - $ 30K
The $ 58,200 to $ 62,000 range is a confirmed reversal zone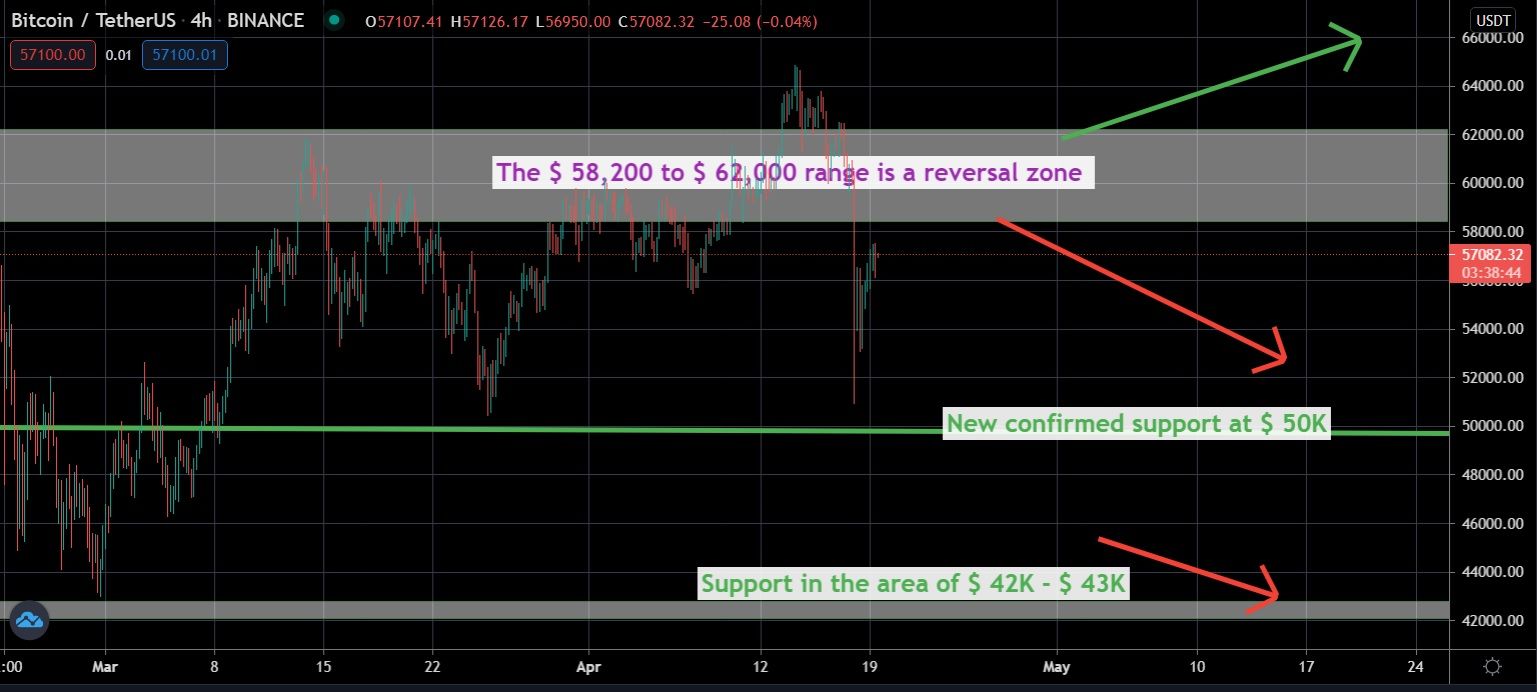 ---
---