The mood across the crypto markets is exceptionally positive and so-called bullish, after yesterday when Bitcoin reached a new ATH of $67K.
It all started at the beginning of this month when we witnessed the first significant move towards $50K, the psychological frontier that the bulls crossed after only five days.
You might remember that we published an article titled "Is Bitcoin heading for a new ATH?" relying on a major report published by one of the world's largest banks, BofA. Bank of America said that we could not ignore digital assets and that their potential in the financial sector needs to be recognized.
Over time, even more significant events have emerged, such as the SEC's approval of the first Bitcoin ETF, and it has become more or less clear that the new ATH was within reach.
When it comes to technical analysis, one of the biggest surprises was that this time around, we overcame the persistently problematic reverse zone in the range of $58,200 - $62,000 with no significant problems. Subsequently, it didn't even take 24 hours before we reached the new ATH.
What can we expect in the next few days?
So far, Bitcoin seems to be building a $64K support zone, from which it has rebounded several times. Therefore, we assume that BTC is not yet facing significant sales in this price range, which might be a herald for further growth.
If BTC can stay above $64K for over 48 hours, it will likely attempt to attack the $70K mark.
Important price areas:
The $58,200 to $62,000 range is a reversal zone
New support at $50K - $48K
Support at $42K - $43K
Key support in the area of ​​$28K - $30K
Next support at $22.5K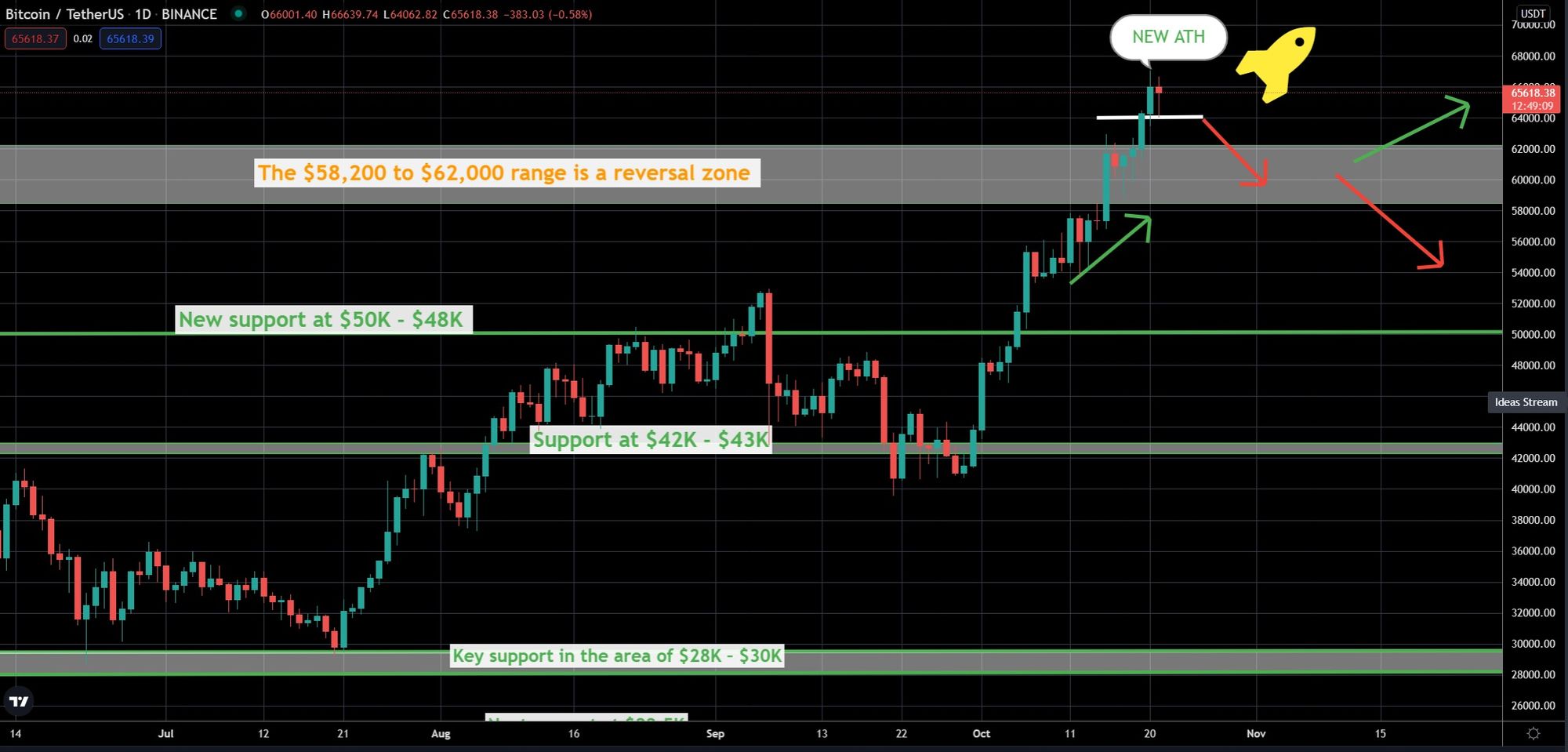 ---
---