As the crypto market grows, so do new crypto measurements in different countries. Coinclub, a crypto market analyzing company has produced its quarterly report on crypto-friendly countries. The report states that the USA had risen from the 3rd position to the 1st, sharing the spot with one of the strongest European economies — Germany.
The recent success can be ascribed to US President Joe Biden signing the regulatory movement that promoted the security and safety of investors and encouraged people to invest in cryptocurrencies.
The decision by Fidelity, to let Americans make Bitcoin a part of their pension, was a major move towards becoming a crypto-friendly nation. Whereas in Germany, Sparkassen Bank's Bitcoin bid, was the reason for Germany to rank at the top. Not to mention the fact that Germany had one of the largest amounts of crypto holders and miners, while still having beneficial tax regimes and laws.
The countries such as UAE, Portugal, France, and Russia, with their crypto-friendly politics and economics, are catching up with the "Top-1". Portugal for instance offers great tax policies on crypto, even for those who live without legal resident status. This only stimulates the growth of their market. Moreover, with the sea-shore, good weather, and the EU quality of life, this place becomes a haven for traders.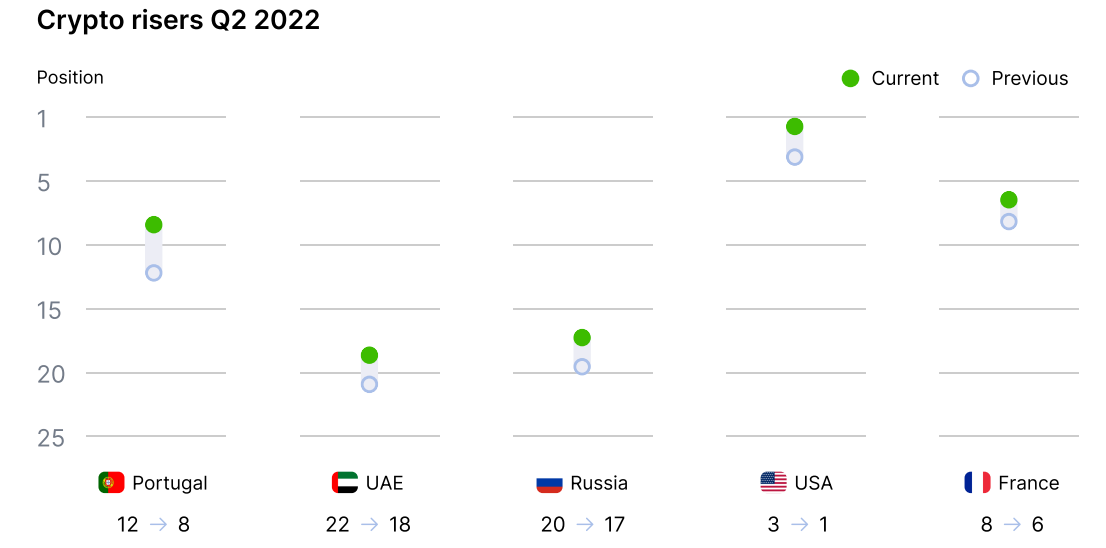 There are also those that fell from their higher position. Pakistan, China, South Korea, Brazil, and Cyprus met their fate in a much lower place than they were in Q1. They dropped by 6 to 9 places.
---
---