According to data published by CoinShares, investors used last week's slump affected by China to buy digital asset products totaling $95 million.
Investors were most attracted to cryptocurrencies such as Bitcoin and Ethereum, but promising projects such as Solana and Polkadot also appeared on the list of the most sought-after digital assets.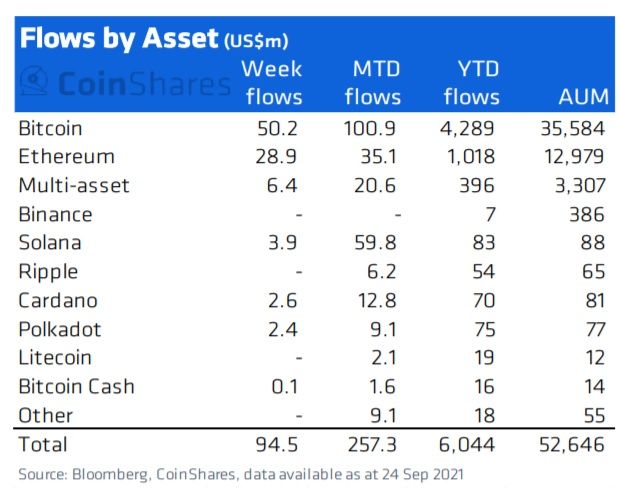 Looking at the specific numbers for BTC, an inflow of $50.2M was recorded last week, followed by an ETH with an investment of $28.9M.
The aforementioned Solana project saw a weekly inflow of $3.9M, with Polkadot attracting $2.4M from investors. Projects such as Cardano and Bitcoin Cash were also included in the list.
As for specific crypto funds, the most sought after was CoinShares XBT, which recorded an inflow of $25.4M. Second place went to 21Shares with $22.1M, followed by Purpose with $21.5M. Funds such as ETC Group, 3iQ and CoinShares Physical were also listed, which also saw a noticeable inflow of investment.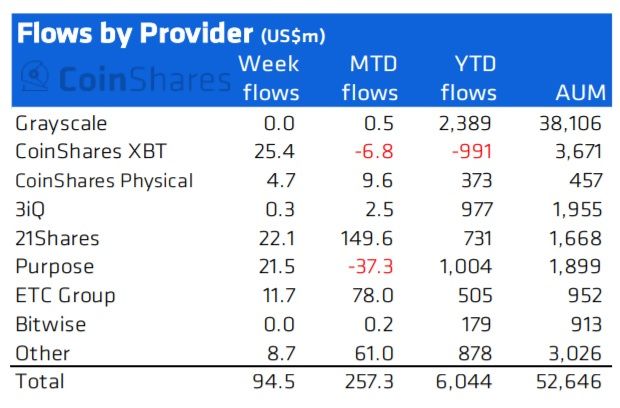 The total inflow of investment in the digital assets of these funds has increased up to $320M in the last 6 weeks.
---
---