Finbold, a financial news website, has assembled data on the number of Bitcoin-related articles over the past four years. Their findings were fairly impressive, as the amount of stories on Bitcoin has grown thirty-fivefold since 2017.
In the past four years, Bitcoin has been enjoying a significant surge in popularity. This rise still continues, as the number of Bitcoin-related is predicted to double this year, currently coming at 19.46 million compared to last year's 10.98 million, which is a 77.23% increase so far. The overall increase of articles between 2019 and 2020 had nested at 92.39% growth.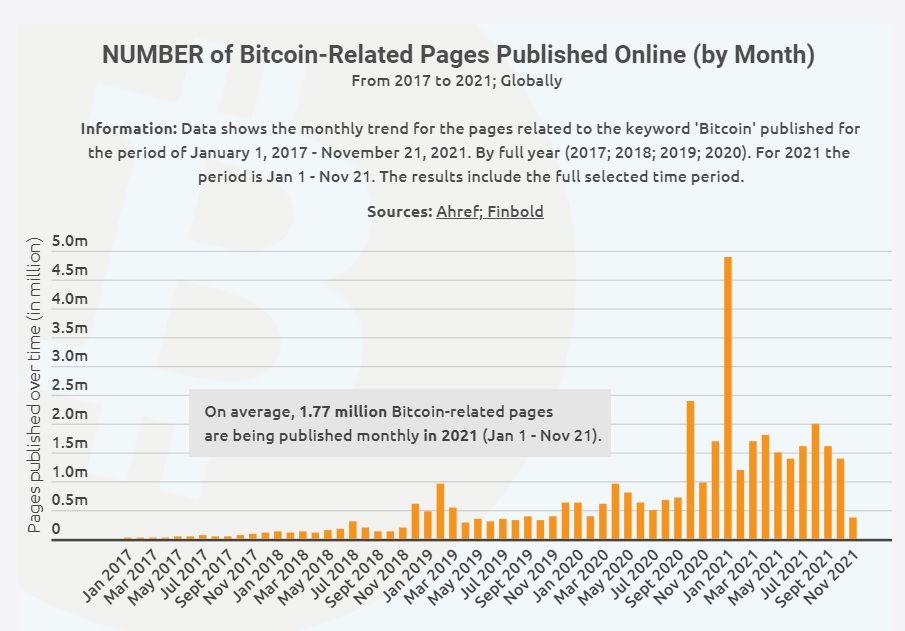 On a monthly average, 2017 produced 0.05 million articles per month. There were 0.2 million articles monthly in 2018, 0.44 million in 2019, 0.92 million in 2020, and finally, 1.77 million in 2021, at the time of writing.
The highest surge in the monthly number of articles can be seen in this year's January, rising at 4.9 million. The unprecedented growth can be ascribed to prominent companies like Tesla or PayPal taking interest in the cryptocurrency.
All in all, Bitcoin is "re-inventing" itself in mainstream media as a respectable asset, rather than an illegal gateway. The rise in the number of articles in respected media is further propelling its popularity and also price.
---
---