After more than two weeks, Bitcoin beat $50,000, but it didn't take long, and after a few days, it was once again coming below this price area, which surprised many of us in the context of today's big event in El Salvador.
As noted in the last analysis, Bitcoin has been in the highly watched $50K range for over 10 days, so it was more than clear that the day would soon come when we would see a final decision from traders.
It happened exactly on the 16th day when BTC managed to accumulate the necessary volumes and overcame the $50K with a more significant movement.
However, the bullish mood didn't last long, as just a few hours ago, traders decided to leave their positions, resulting in a loss of more than $10K in just one day (-19% Binance).
From the point of view of technical analysis, this is an extremely significant downward movement, as Bitcoin managed to reach the level of the second support in the area of $42K in a short time. Although this support proved to be functional and bounced BTC back up by several thousand, at present it is still necessary to be careful, because it happened at the very moment when the opposite scenario was expected.
That is the situation in El Salvador, because just today Bitcoin was officially recognized as legal tender, which, according to most analysts, was reflected in a rising trend.
It is therefore really a mystery who is behind this sale and why it happened on a day that is recorded as one of the most important in the history of cryptocurrencies.
Let us also recall the announcements of the largest Japanese financial corporation that they will launch their own and at the same time the first crypto fund in this country later this year.
What to expect from the market in the coming days?
In this case, it's still 50 to 50, because global events are in favor of the bulls, but on the other hand, the loss of $50K from a technical analysis point of view is a bearish signal. Traders who have open positions will therefore find it really difficult and one of the best solutions is to wait for the market to stabilize, as increased volatility may persist for a few more hours.
Important price areas:
The $ 58,200 to $ 62,000 range is a reversal zone
Restored resistance at $ 50K - $ 48K
Support at $ 42K - $ 43K
Key support in the area of ​​$ 28K - $ 30K
Next support at $ 22.5K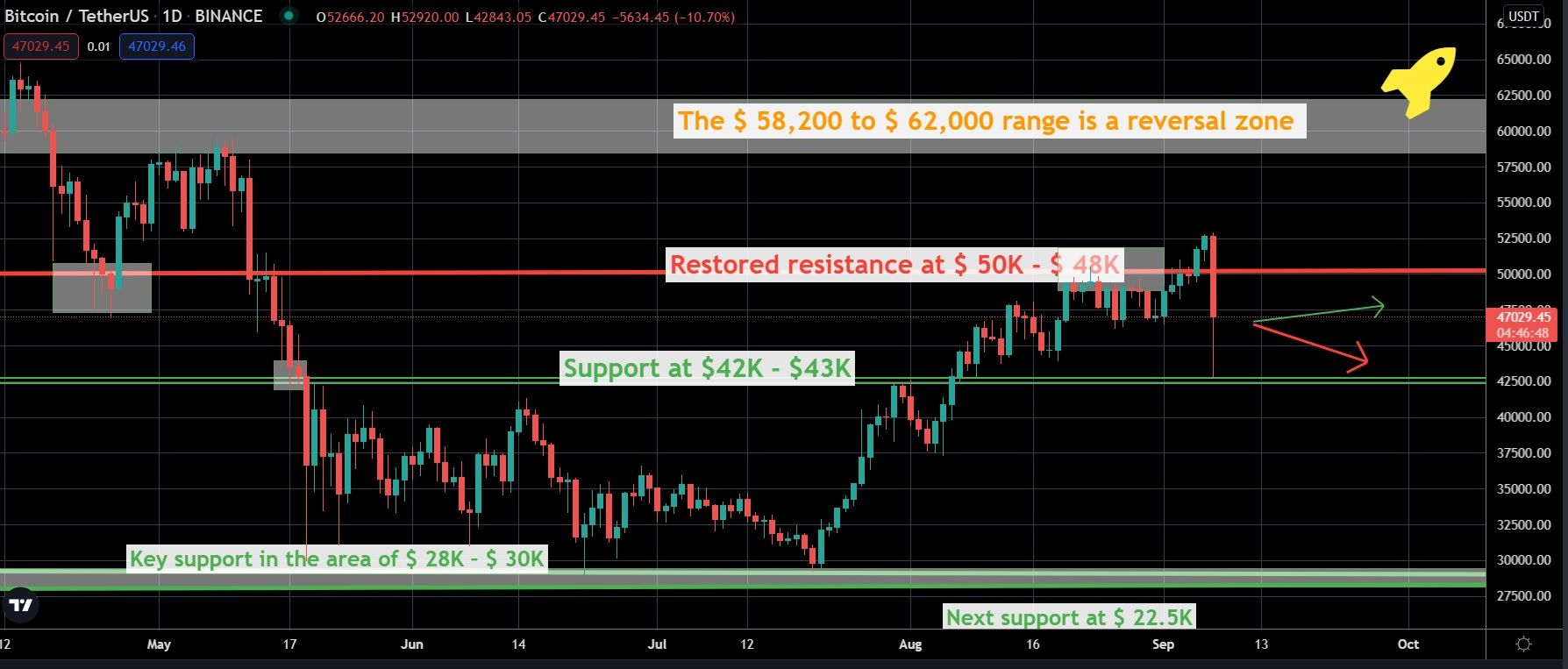 ---
---