As we wrote to you in our latest analysis, the Bitcoin market is healthier and relatively more stable after the April correction, as evidenced by the behavior of recent days.
Bitcoin has been aware of strong support at $ 50K since the last correction, giving traders a great opportunity to accumulate BTC before further growth. Traders have not lowered the price of Bitcoin below the minimum of $ 52,300 (binance) for almost 2 weeks, and after each approach to the support area, we saw an immediate response in the form of purchases.
On the other hand, this scenario is most suitable for altcoins, where many of them have reached the new ATH these days. Based on this fact, it should also be recalled that altcoins increase their dominance compared to BTC, which is only at the level of 43%.
Nevertheless, Bitcoin has stronger support from HODLers, as evidenced by recent statistics monitoring the maturation of these coins. Important finding is the fact that more coins have matured than sold since April 8, and this metric even reached a 6-month high of 96.5k / BTC maturing / month last week.
So what to expect within the next days?
Bitcoin has been moving in the area of ​​the reverse zone for the third day, where it is trying to turn upwards, but much stronger bears have so far successfully defended it here. Therefore, there are only two scenarios, and either BTC will beat this zone with strong volumes or it will return to the mentioned support. If the BTC fails to successfully attack $ 60K in the near future, it is possible that the bulls will lay down their weapons for a while.
Technical analysis
Confirmed support at $50K - $48K
Next support in the area of ​​$42K - $43K
Key support in the area of ​​$28K - $30K
The $58,200 to $62,000 range is a confirmed reversal zone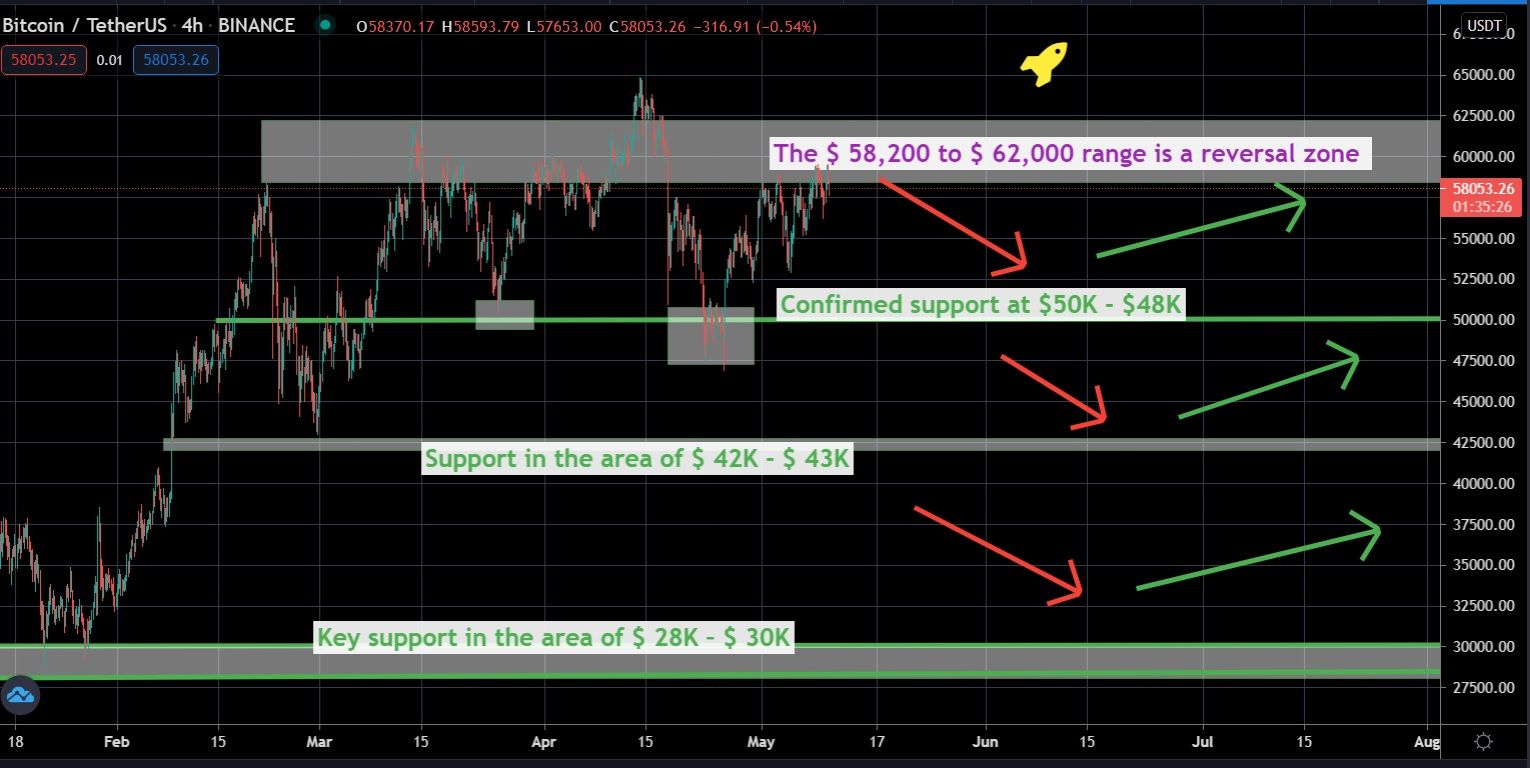 ---
---