Since our last analysis, almost nothing has changed on Bitcoin, which is surprising because we have witnessed several important events.
As we wrote to you recently, Bitcoin is currently in a zone where it feels comfortable and has no problem staying here for a long time. We were in the current price range for more than a month at the beginning of the year, currently we have been here for almost 3 weeks now.
The zone's resilience to volatility was also confirmed by the fact that we witnessed the largest bitcoin conference and also the speech of President El Salvador, who wants to make the BTC a legal tender in the country, but the price hardly reacted at all.
The BTC price reached its maximum on Saturday and thus 3.6. at $ 39,476 (binance) and thus stopped even before the indicated resistance.
What to expect for the next few days?
If the president of Salvador really succeeds in legalizing BTC in the near future as an official currency in the country, we could see a slight recovery. Bitcoin would thus face the difficult task of overcoming resistance in the range of $ 42K - $ 43K and probable subsequent growth up to $ 50K. The bullish is also still the RSI indicator, which is trying to bounce on 1D upwards.
As for the bearish scenario, we currently see no reason why the price should face another downward correction. According to several experts, the market has already cooled down enough, so we can rather expect a sideways scenario.
Technical analysis:
RSI at 1D - Bullish
Resistance at $ 42K - $ 43K
Resistance at $ 50K - $ 48K
Key support in the area of $ 28K - $ 30K
Next support at $ 22.5K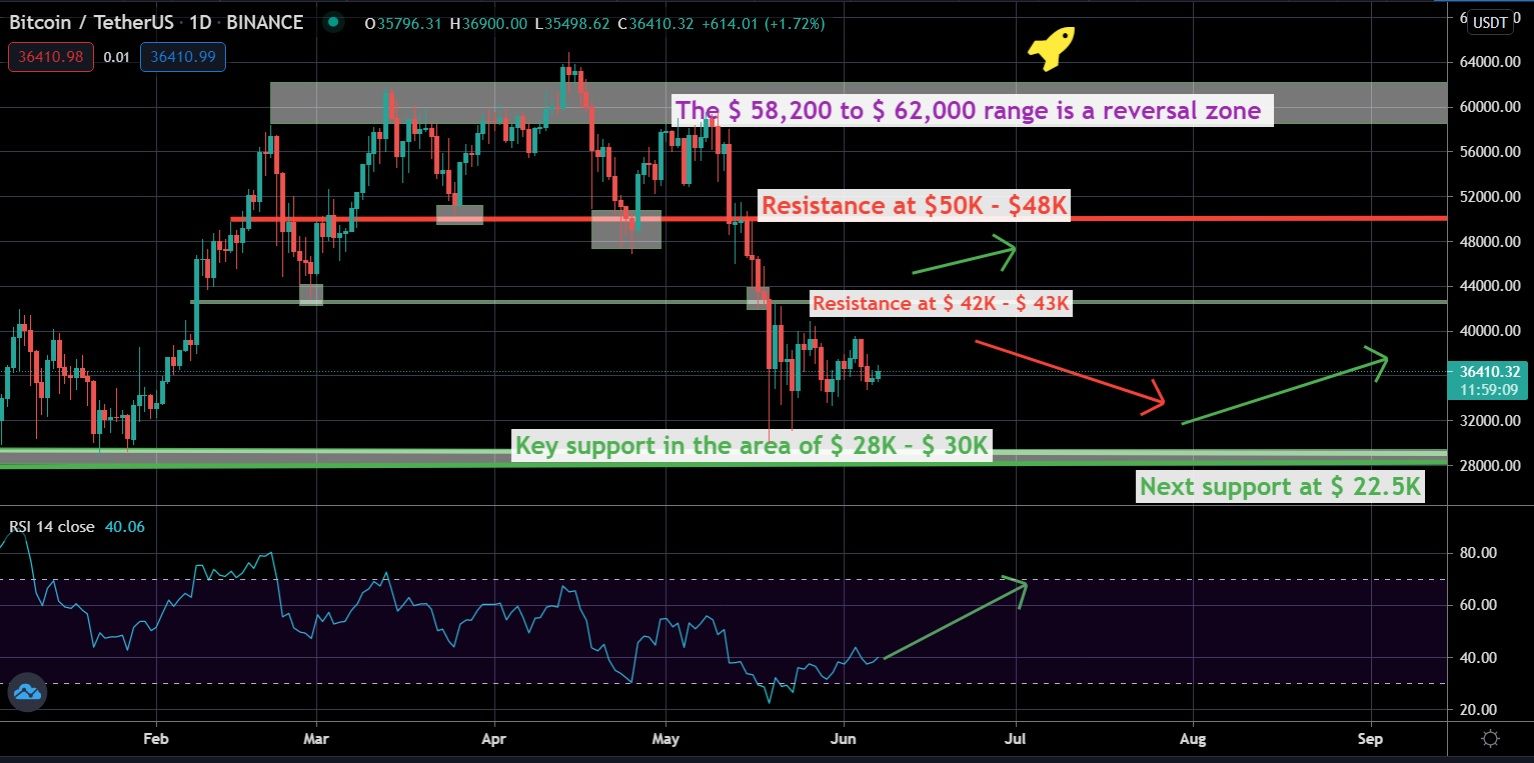 ---
---