Bitcoin has fallen by more than 27% since our last analysis, which means that we have reached the same price levels as at the end of February this year.
However, what we saw on the BTC market last week is not surprising for those who have been trading cryptocurrencies for a long time. Yes, for many it was definitely scary, but I assure you that you do not have to worry about anything, because even such a fall has its positives.
The first positive
The crypto market is still very young and therefore it is very important that prudent and emotionally advanced traders remain in the market. What happened last week is an accurate proof that there are still a lot of newcomers and so-called panic sellers on the BTC market.
Only one statement from Elon Musk on the social network Twitter was enough to start the sales wave.
These traders preferred to be influenced by the statements of a person who became interested in Bitcoin only a few months ago, rather than paying attention to more important personalities in the world of trading or finance.
The BlackRock CIO announced the day after  that Bitcoin is an interesting asset and that it is counting on it within the investment arena for the next few years. BlackRock, Inc. had an AUM of $ 8,67 trillion as of January 2021.
As a result, it is positive that the market has also been able to get rid of weak hands and traders in this way, who are far too sensitive to any comments from celebrities.
The second positive
The bulls maintained support at $ 42K with excellent accuracy.
Traders watching the technical analysis already knew that BTC was in danger the moment it fell under psychological support $ 50K. Support, which played its role for more than 2 months, was deleted from day to day. For the bulls, this meant only one thing, and that was that they had to consolidate quickly and confirm the functionality of the next support.
The $ 42K - $ 43K support, which was discovered in late February, surprisingly worked with high accuracy with a measured lowest value of $ 42,196 (binance) and subsequent bounce up. Bitcoin has bounced back from this support by more than $ 3K and is currently trading above $ 45K.
Technical analysis
Probably new resistance at $ 50K - $ 48K
Confirmed support in the area of ​​$42K - $43K
Key support in the area of ​​$28K - $30K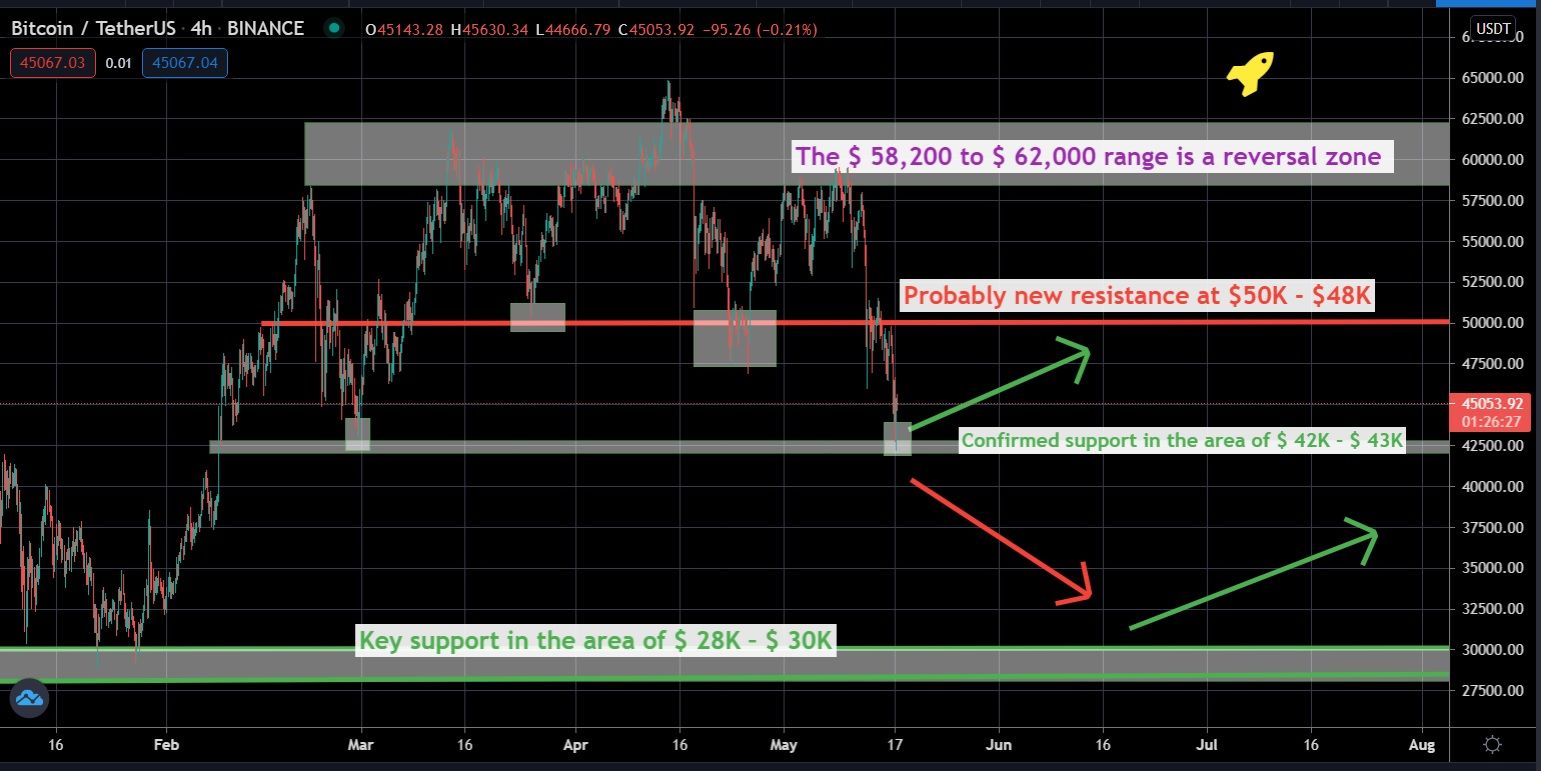 ---
---